Description: 
This is a collection of helpful resources to support you in your journey forward, post-retreat.
Enjoy!!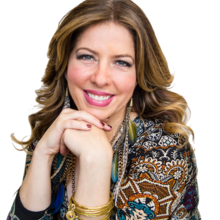 "The Superstar Activator"
Michelle Villalobos
Michelle Villalobos helps entrepreneurs and professionals creatively package and strategically market themselves to achieve visibility and credibility, so that they – and the world – can benefit from their unique talents, story, mission and message. Michelle has delivered programs and keynotes for both corporate and entrepreneurial audiences, such as American Express, Adidas, Burger King, Univision, Audi Latin America, Lexis-Nexis, Lloyd's of London, and many more.
1

[VIDEO] Strategy Session Quickstart Training

Michelle's Strategy Session Training Overview Audio

Superstar Sales As Service Conversation Guide & Scriptmaker Worksheet

Jake's Strategy Session Audio

2

Projections Tools & Other Spreadsheets!

[PROJECTIONS] Big Back End Projections Spreadsheet on Google Sheets (Make A Copy & Save As)

3

Superstar Business Breakthrough Miscellaneous Follow-Up Resources

[AUDIO] Magic Carpet Visualization 2018 Version (17 minutes)

[VIDEO] YouTube Video Marketing Lesson Featuring SEO/SEM Rush Strategy That Michelle Uses

[TEMPLATE] Sample Referral Form

[AUDIO] LeeAnn Webster (Email) & Nate Woodbury (YouTube) Sessions (at 2019 Business Breakthrough Retreat)

Full Marketing Espionage Book PDF -- by Heather Lutze

[VIDEO] Retreats to Riches 3-Hour Virtual Training

[AUDIO] Preview Event Marketing Interview with Patty Ferreira [30 minutes]

[DOWNLOAD] Retreats To Riches Roadmap QuickStart Guide

[LINK] TedX United States Events List (search for year and see calls for speakers currently open)

[MASTERY] Brand Message Clarification, Content Marketing Repurposing with Guest Mastery, Rory Vaden // February 2019

[SAMPLE] Speaker One Sheet – Michelle Villalobos

[SAMPLE] Podcast Interview One Sheet for Pitching Yourself

Michelle's Big Back End Offer Outline / Script

4

Awaken Your Inner Superstar Podcast Recommended & Referenced Episodes

Podcast #11 - Andy Henriquez: Unlocking the Power of Story to Influence, Inspire and Educate

Episode #16 - Dustin Mathews: Create A Marketplace Frenzy With Your Irresistible Offer!

Episode #21 - Albert Pellissier: How to Follow Your Soul's Purpose AND Make Good Money

Episode #23 - The Lifestyle Episode – Building A Business That Honors & Supports Your LIFE, with Michelle Villalobos

Episode #31 – The Business Model Episode: How to Build a Sustainable, Scalable Business (Without Sacrificing Your Health or Lifestyle) with Michelle Villalobos

Episode #34 – Interview with Roger James Hamilton, Creator of Wealth Dynamics – Find Your "Flow" for More Freedom, Fortune, Fulfillment & FUN!!

Episode #38 – Michelle Villalobos – The 5 Key Components of A "Superstar" Brand

Episode #39. Mark LeBlanc – Simple Activities & Behaviors to Grow Your Business DAILY

Episode #42. NaniLea Diamond – The "Feminine Blueprint" for Leadership

Episode #45. Michelle Villalobos – Retreats To Riches: Design, Fill & Monetize Transformational Events

Episode #47. Michelle Villalobos – Forget Marketing… Try Speaking! How You Can Use Speaking To Attract Inbound Business

Episode #56. Lois Creamer – How To Earn A Living As A Professional Speaker

Episode #54. Helen Chang – Write & Publish A Superstar Book That Drives Business!

[PODCAST] InspireNation Podcast Episode Interview with Howard Martin of HeartMath About The Heart As An Emotional Projection Machine

5

Mark LeBlanc 3-part Sales / Outreach Mastery Series

Practical Strategies to Grow Your Buiness with Mark LeBlanc (Part 1 of 3) // September 2017

Practical Strategies to Grow Your Business with Mark LeBlanc (Part 2 of 3) // September 2017

Practical Strategies to Grow Your Business with Mark LeBlanc (Part 3 of 3) // September 2017

6

Dustin Mathews Irresistible Offer Series

Irresistible Offer Architecture® Series (Part 1 of 3) with Dustin Mathews

Irresistible Offer Architecture® Series (Part 2 of 3) with Dustin Mathews

Irresistible Offer Architecture® Series (Part 3 of 3) with Dustin Mathews

7

Recommended Reading / Books Referenced